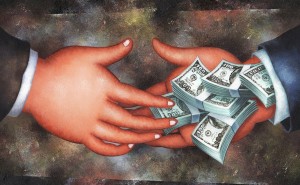 Corporate bribery is in the headlines. Last week, the media was reporting accusations that Hong Kong's top government official took $6.4 million in bribes from an Australian engineering firm. Before that, a top official in China's central planning commission admitted taking $5.8 million in bribes from Toyota and other companies, and a Chinese court fined GlaxoSmithKline ("GSK") $500 million for bribing doctors. Before that, Alcoa settled bribery charges in the U.S. for $380 million, while Hewlett-Packard settled charges for $108 million.
Each time, the news is followed by a flurry of articles from corporate compliance experts urging companies to take ethics and compliance more seriously, including obtaining full support of the CEO and Board, assigning oversight responsibility to high-level personnel, allocating resources, implementing policies and procedures, providing regular education and training, incentives and discipline, performing continuous auditing, monitoring and fine-tuning, and responding promptly to any violations.
Some may feel that's a bit much, that, "Our company values ethics and integrity, but can't afford a full-blown compliance program." In truth, most global companies can't afford not to implement such measures, and it's not just about bribery. Below are some reasons why companies should honestly assess their compliance programs and make earnest efforts to plug any gaps.
Corruption and Bribery
No question, bribery is a problem. The U.S. Foreign Corrupt Practices Act ("FCPA") makes it unlawful to pay, or offer to pay, anything of value to any person, knowing that all or a portion of the payment will be given or promised to a foreign official, to gain an improper advantage in business. The law also requires companies to maintain proper accounting books and records and authorizes massive civil and criminal penalties for violations.
The FCPA applies not just to U.S. entities, but to foreign companies listed on a U.S. stock exchange or doing business in the U.S., even if the conduct occurred solely outside of the U.S. In fact, many of the largest FCPA penalties have been incurred by foreign companies, including German engineering firm Siemens AG, fined $800 million in the U.S. (and $800 million in Germany) for paying bribes in Argentina, and British aerospace company BAE, penalized $400 million for paying bribes in Saudi Arabia. Other companies fined more than $100 million under the FCPA include Halliburton subsidiary KBR, German automaker Daimler AG, French telecom company Alcatel-Lucent, Swiss oil services company Weatherford International, Japanese construction firm JGC Corporation and others.
But the U.S. is not the world's only anti-bribery policeman. The OECD Convention on Combating Bribery of Foreign Public Officials has been adopted by more than 40 countries and many nations have enacted anti-bribery legislation. Even China, often criticized for corruption, is cracking down. While GSK's $500 million penalty is the largest penalty ever levied in China for bribery, it is hardly an anomaly. China's Criminal Law and Anti-Unfair Competition Law both prohibit corporate bribery and the PRC government is two years into a dramatic public campaign against corruption, during which more than 70,000 officials have been disciplined for corruption.
Avoiding bribery can be tricky in China, because favors are often expected (or demanded) and, with so many state-owned enterprises, corporate officers are often government officials. But some countries are worse. In its 2013 Corruption Perceptions Index, Transparency International gives China a score of 40, compared to 91 for top-scoring Denmark, while countries such as Haiti, Iraq, Afghanistan, Somalia and North Korea all score below 20 (the U.S. scored a modest 73). When doing business in countries known for high levels of corruption, management must be especially vigilant.
Anticompetitive Collusion
Antitrust violations can also be costly. In the U.S., penalties for price-fixing, bid-rigging and related acts exceeded $1 billion in each of 2009, 2012 and 2013 (see below graph). Plus, the U.S. government rarely loses, winning all but 28 of the 657 antitrust cases it brought from 2003 to 2012. AUO, Hoffman-La Roche, Bridgestone, LG, British Airways, Samsung and others have all been fined in excess of $300 million by U.S. regulators. European antitrust penalties can be equally harsh, as six companies found in 2013 when fined a total of $1 billion for collusion in the ball bearing industry.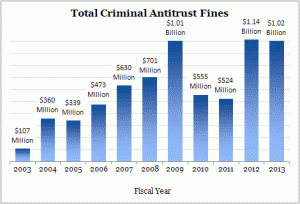 The case against Taiwanese LCD-maker AU Optronics ("AUO") was particularly sobering. AUO was one of several manufacturers of TFT-LCD panels indicted for price-fixing and bid-rigging. The other defendants all pleaded guilty, agreeing to pay $890 million in fines, but AUO took its chances at trial and lost big, receiving a $500 million fine and 36-month prison sentences for two of its top executives. The Ninth Circuit affirmed the decision a few months ago, upholding the calculation of AUO's penalty based on the unlawful gains of all conspirators, not just AUO, and refusing to reduce it based on settlements paid by AUO's co-conspirators.
Making matters worse, antitrust defendants are often penalized by governments of several jurisdictions. Even China is cracking down, having fined ten auto-parts companies $200 million in 2014 and six dairy companies $100 million in 2013. But the real pain is the civil actions, as most government antitrust actions are followed by a handful of class-action and other civil suits, for which treble damages may be available. In fact, from 1990 to 2008, defendants paid more than $33 billion to resolve all private antitrust lawsuits in the U.S., which was four times the size of all government penalties.
Export Violations
Violations of U.S. export law can also be costly. The Commerce Department's Export Administration Regulations ("EAR") regulate exports of commercial items with potential military applications ("dual-use" items); the State Department's International Traffic in Arms Regulations ("ITAR") regulate items designed specifically for military applications; and the Treasury Department's Office of Foreign Asset Controls ("OFAC") administers economic sanctions against countries, entities and individuals.
EAR restrictions apply to not just obvious items such as nuclear materials, but also electronics, computers, telecommunications equipment, sensors and lasers, navigation devices, materials and chemicals. A specific license may be required to export certain items, depending on the destination and purpose, and violations are punishable by civil and criminal fines up to $1 million per violation, up to 20 years in prison, and revocation of export privileges. ITAR authorizes comparable penalties.
In one 2013 case, the government fined a Texas company, Weatherford International, and its foreign subsidiaries $100 million for exporting oil and gas equipment to Iran, Syria and Cuba and nuclear technology to Mexico and Venezuela, in violation of EAR and ITAR. In a 2012 case, ING bank settled with OFAC and the Justice Department, agreeing to pay $619 million in penalties for transacting business in Cuba and Iran.
Officer and Director Liability
Officers and employees may also incur substantial penalties for violating the types of laws described above. In February 2014, a New York judge ordered two former Siemens executives, both German citizens, to pay almost $1.5 million in penalties and disgorgement for having paid or authorized more than $100 million in bribes to Argentine officials in the hopes of landing a $1 billion government contract for Siemens.
Even board members are increasingly finding themselves sued for non-compliance. After the government sues, a handful of shareholder derivative lawsuits often follows, with the shareholders "standing in the shoes of the company," seeking compensation for alleged breaches of fiduciary duties, oversight and disclosure obligations (including obligations owed under the Sarbanes-Oxley Act). For example, a dozen suits were filed against Wal-Mart's officers and directors after the government sued Wal-Mart for bribery in Mexico and Hewlett-Packard's board faced a shareholder action for allegedly covering up bribes paid by HP in Russia.
Prison sentences are also common. In 2013, the U.S. Department of Justice charged 52 individuals in antitrust cases. Seventy percent of all antitrust defendants end up in jail, while the average sentence increased from eight months in the 1990s to 25 months in 2010 to 2013 (see below graphs). In the TFT-LCD conspiracy, thirteen top executives from various companies were sent to prison, including two from AUO, who each received three-year prison sentences. In another case in 2013, the former CEO of Sea Star Lines was sentenced to five years in prison for price-fixing in the shipping industry.
Conclusion
So, why bother with compliance?
First it should be noted that the above are just a few examples of regulatory risks faced by multinational companies. Many other laws may apply, including with respect to the environment, product safety, privacy, labor and employment, money laundering, securities, accounting, licenses, permits and taxes. By carefully assessing global risks, based on relevant business locations, activities and other considerations, and implementing an effective compliance program, companies can minimize the risk of devastating penalties for violating such legal requirements.
Second, companies that make good faith efforts to prevent and detect violations are more likely to receive lenient treatment if they are nonetheless found to be noncompliant. The U.S. Federal Sentencing Guidelines state that expressly and proof can be found in the case of Garth Peterson, a former Managing Director in Morgan Stanley's Shanghai office, who was charged with paying unlawful bribes in violation of the FCPA. Although Mr. Peterson was convicted and sentenced to 51 months in prison, the government chose not to press charges against Morgan Stanley, because it trained Mr. Peterson on the FCPA seven times, reminded him to comply with the law at least 35 times, and promptly fired him for the misconduct.
Finally, compliance, ethics and integrity are not costs but assets. Aside from the cost-savings they produce, as noted above, countless surveys have shown that investors, employees and consumers prefer more ethical and legally-compliant companies. Compliance is good for the bottom line, generates employee pride and engagement, enhances customer loyalty, attracts new customers, boosts stock prices and minimizes pressure from activists. People reward a company that is not just successful but good.
—————————————–
For assistance with compliance in Asia, contact www.asialaw.biz