Taiwan liquid-crystal-display (LCD) manufacturer, AU Optronics Corp. (AUO), took a gamble and lost big in a criminal case brought against it in the U.S., based on several years of regular price-fixing activities in the LCD-panel industry. A San Francisco jury found AUO guilty in March 2012, after an eight-week trial, but the court announced the sentence just this past week, ordering AUO to pay US$500 million and sentencing two of the company's top-executives to three years in prison.
AUO was found guilty of participating in more than 60 meetings between 2001 and 2006, at which AUO and most of the other leading manufacturers of thin-film transistor (TFT) LCD-panels conspired to fix production levels and prices of TFT-LCD panels, which are used in computers, cell phones and other products.
It was a rare trial, as defendants in such cases almost always enter into plea bargains. In fact, AUO and its officers were the only defendants in the case who chose to go to trial, with seven other Asian manufacturers and 22 of their executives all pleading guilty, agreeing to pay combined fines of $890 million and accepting prison sentences ranging from six months to slightly over one year.
The investigation began in 2006, when several Samsung entities that also participated in the crimes took advantage of the U.S. Department of Justice's leniency program, by informing the government of the violations in exchange for immunity from prosecution. That tip led to indictments in June 2010.
AUO and the other defendants initially argued lack of jurisdiction – that their actions had no "direct, substantial and reasonably foreseeable" effect on U.S. commerce – but the court disagreed.
The DOJ then argued the standard cap of $100 million per fine under the Sherman Act was insufficient in this case and requested enhanced penalties, up to double the amount of unlawful gains by all conspirators, under 18 U.S.C. 3571(d). The court agreed, but required the DOJ to prove the unlawful gains beyond a reasonable doubt. Ultimately, the jury found the total unlawful gains exceeded $500 million, paving the way for the sentence against AUO (It could have been worse; based on that figure, the DOJ argued for a $1 billion penalty).
It should be noted that AUO and its co-conspirators were also named as defendants in many civil lawsuits filed by customers, retailers and consumers and have already agreed to pay more than $1 billion, combined, to resolve those civil actions. Also worth noting, the $500 million criminal penalty against AUO is tied for the dis-honor of being the largest U.S. criminal antitrust penalty ever against a single entity.
As for the DOJ's leniency program, it is largely responsible for steadily rising criminal antitrust penalties and prison sentences in the U.S. in recent years, as shown in the below graphics from the DOJ's Website.

[Note: above graph goes to just 3/02/12, so penalties in this case are not included.]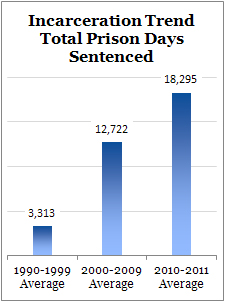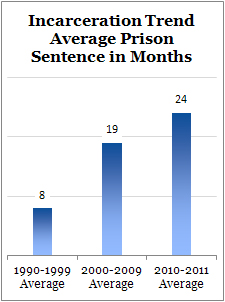 Meanwhile, another major price-fixing case also concluded last week, in Taiwan. Taiwan's Fair Trade Commission found Toshiba-Samsung Storage Technology, Hitachi-LG Data Storage, Sony Optiarc and Philips Lite-On Digital Solutions guilty of illegally fixing prices of optical disc drives (ODDs) from 2004 to 2009.
The four companies, with combined market share of 75% of the global ODD market were found liable for exchanging pricing information when bidding for contracts with Dell and Hewlett-Packard. Like the AUO case, the action began with a tip from a conspirator, in exchange for immunity under Taiwan's leniency program. However, total fines for all the defendants came to just US$1.8 million.
What can one learn from these cases? Certainly, companies should be extremely cautious about exchanging information with competitors concerning pricing, costs and production volume; even more so if they might contemplate acting in concert based on such information.
Companies should provide regular trainings for all relevant personnel, particularly senior management and those involved in sales and procurement. Such trainings should describe not only relevant laws, but the potential consequences of such crimes, as painfully demonstrated in the AUO case, and staff should be encouraged to send any questionable schemes or correspondence to Legal for review before being launched from the company.
And, finally, in the event that a company participates with others in an illegal price-fixing operation, whether in Taiwan or the U.S., it appears to pay to snitch on ones co-conspirators in exchange for the immunity of a state-sponsored leniency program.
———–
If you have any questions or require assistance, please contact our Taiwan antitrust lawyers.